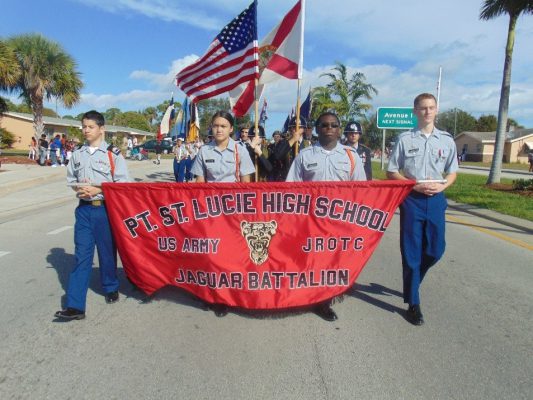 Jaguars March in the MLK Jr. Parade
By: Sarai Narvaez
The Port Saint Lucie High School Jaguar Battalion showed their pride at the annual Martin Luther King Junior Day parade in Fort Pierce. Marching in this parade is a tremendous honor and privilege for Port Saint Lucie High.
The Battalion formation was led by the Jaguar's Color Guard and was commanded by Cadet Staff Sergeant Tesa May carrying the National Flag. Cadet Staff Sergeant Marco Nader carried the State Flag. Cadet Staff Sergeant Haley Pollard and Malver Casanas posted as Guards.
Following behind the Color Guard was the Battalion Staff and shortly after that, the Company formations beginning with Alpha Company formation then Bravo, Charlie and lastly Delta. The cadets preformed with the utmost excellence showing the heart and pride of the Jaguar Battalion.
Way to go Jags!