Summer 2013 proved to be an exciting time for Fort Pierce Central (FPC)/Embry Riddle Aeronautical University (ERAU) students.  Eight FPC/ERAU Aerospace Institute students, 10 – 12 graders, were selected to be the inaugural class for a new internship program launched in cooperation with Renegade Light Sport Aircraft of Fort Pierce.
The interns spent the summer learning and working at Renegade at the St. Lucie County International Airport in Fort Pierce under the mentoring of several members from the Fort Pierce Experimental Aircraft Association (EAA) Chapter 908.  Interns included Anthony Oreo, Zac Molinelli, Bryce Starr, Brady Loupe, Leo Troncoso, Ruelane Kindred, Aaron Quinn, and Cody Elndenin.   These students worked side by side with accomplished local pilots and mechanics acquiring more than 25 hours of pilot ground school, 34 hours of mechanical instruction and 2 hours of individual flight time.  Each participant is accumulating hours toward two Industry recognized certifications: Light Sport Pilot and Light Sport Repairman.
When Renegade CEO Doc Bailey speaks of the students he conveys his pride in having them work at his facility and shares his amazement at the dedication these teens put forth over a number of hot summer days.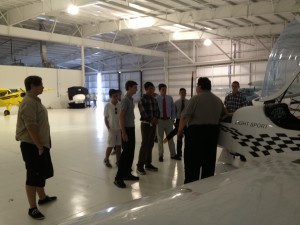 Doc partnered with Kevin Adkins – FPC/ERAU Aerospace Institute Director, Paul Dekker – President EAA Chapter 908, June Beers – Treasurer EAA Chapter 908 and Kathie Schmidt-Career and Technical Director St. Lucie County Public Schools to pull this internship together.  This group of students will now transition to the second internship rotation while another group prepares to start anew.