Students at Treasure Coast High School are making use of 'Algebra Nation,' an intensive, free, online learning Algebra End-of-Course (EOC) exam preparation resource. Triniti Wimbs won top honors on the Algebra Wall, an interactive discussion forum that allows students from around the state to ask algebra questions 24 hours a day, 7 days a week. Study Experts monitor the wall and award students karma points when they help other students. Each month, the middle and high school student with the highest total number of karma points in the state wins an iPad mini. Triniti earned the award in October for the High School student with the most karma points. On Thurday, November 6, 2014, Algebra Nation awarded Triniti her iPad.
Algebra Nation visited Treasure Coast High School to deliver this well-deserved prize. Triniti is always on Algebra Nation afterschool, learning and helping other students from across the state of Florida with their algebra questions. Now Triniti can answer questions just by drawing out her answers on her new iPad!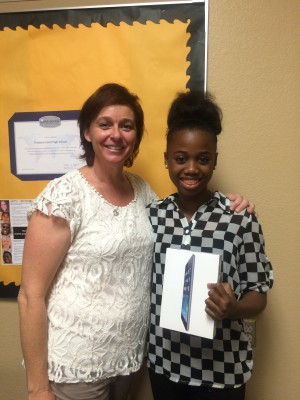 Algebra Nation began as a collaborative effort between the University of Florida and Study Edge. UF professors, master teachers and Study Edge experts have dissected the material tested on the End-of- Course exam and aligned Algebra Nation with the latest state standards. Algebra Nation delivers dynamic concept videos, corresponding study guides, an online practice tool that emulates the EOC testing environment, and an interactive discussion forum (the Algebra Wall) where students, teachers, and parents across the state of Florida can ask and answer questions about algebra. Algebra Nation is being used in over 1,300 schools across Florida.
Mrs. Mannion (above), Triniti's teacher was very proud of Triniti and her activity on the Algebra Wall, and she encourages all of her students to use Algebra Nation to prepared for the End-of-Course exam
Students, parents, and teachers can access Algebra Nation's free resources 24/7 through their computers, iPhones, iPads, and Android phones. To learn more about Algebra Nation, go to www.AlgebraNation.com.