ST. LUCIE COUNTY – The Kids at Hope Garden at Samuel S. Gaines Academy (SGA) sprang to life as thirty Home Depot employees and volunteers gathered to enhance campus grounds.  After recently receiving a Home Depot Foundation grant, volunteers installed an irrigation system, built plant boxes and fences, transplanted trees, and beautified the school's garden area with new sod and mulch.
According to Principal Traci Wilke, "The revitalized garden is the heart of a school-wide initiative to provide an opportunity for our students to learn how to plant, grow, and maintain a variety of vegetables and herbs. The management and the care of the plants are in the hands of our very capable students."
This recent grant-funded project was the result of the SGA Kids at Hope Committee partnering with the St. Lucie Education Foundation Inc. to write the grant.  Over the last few years, SGA and The Home Depot (#6376 SLW) have built a growing partnership in which the home improvement giant has supported students through generous provisions and sponsorships of numerous Kid's Club events as well as donations of materials for school-wide initiatives.
About St. Lucie Public Schools
The mission of St. Lucie Public Schools is to ensure all students graduate from safe and caring schools equipped with the knowledge, skills and desire to succeed. For more information visit, www.stlucieschools.org  or contact Kerry Padrick at kerry.padrick@stlucieschools.org.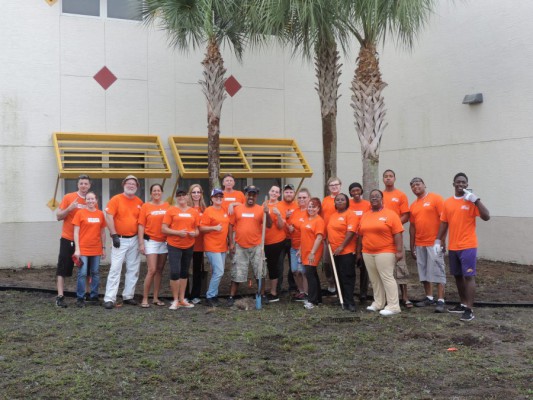 Home Depot and school volunteers support the Kids at Hope Garden at Samuel S. Gaines Academy.
###