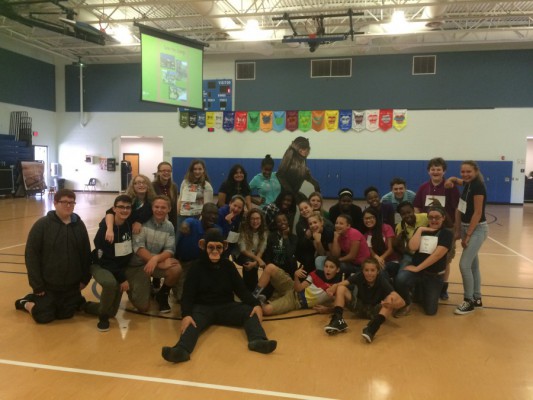 Manatee Academy's Pre-Vet class organized a fantastic school-wide collection program this year for "Save the Chimps," a local animal sanctuary that cares for about 300 rescued chimpanzees. Students donated over 535 items to this local organization. The goal of the non-profit animal sanctuary is to provide endangered chimpanzees a private, comfortable existence in an environment which simulates a natural habitat as closely as possible. Every chimp costs $16,000 per year to support, and chimps live to an old age of 80 years on average.
To encourage donations, Mrs. Friend's eighth grade Vet Prep students designed an EXPO which was held in the gym to teach younger students about chimpanzee life. 7-800 students visited the vet prep presenters, who designed themes including "Why Chimps Do Not Make Good Pets," "Natural Diet of Chimpanzees" "Chimp Social Behavior," and "History of Save the Chimps Facility" just to name several examples.
Booth activities provided instruction for the elementary age students and included art, songs, dancing, games, puzzles and riddles to solve. Jacob Dixon even entertained classes dressed as a friendly chimp!  Classes were entered into a donation contest with the winning class earning a banana split ice cream sundae party.  Additional enrichment projects include K-8 classes signing up to create chimpanatas; paper-mache covered balloons that the sanctuary stuffs with paper shreds and treats to stimulate the chimps' natural foraging instincts.
Manatee Academy Vet Prep students select one animal rescue effort to support each school year. Students enrolled in the Vet Prep class study animal science, humane animal treatment, and most move on to academically rigorous high school attractor programs through the district.