Norman Frajman, an 86-year-old Holocaust survivor and President of the Child Survivors/Hidden Children of the Holocaust group, traveled from Boynton Beach to Oak Hammock K – 8 in Port St. Lucie with 20 members of the organization for what has become an annual commemorative event – Holocaust Remembrance Day. Frajman and others, shared their emotional and moving stories of concentration camp survival during World War II with sixth graders who linked their classroom studies to the authentic experiences of their campus guests.
According to Belkis Madera, event organizer and veteran educator, "Honoring children of the Holocaust has grown into a highly anticipated event each year.  It is an opportunity to connect living history with our students so they may learn, understand, appreciate, and carry forth the message of survivors for future generations."
Frajman is a welcome speaker on school and college campuses. He shares his childhood memories of the concentration camps, Death March, and ultimate liberation at age 15 in an effort to educate. His story is one of survival, determination, and appreciation.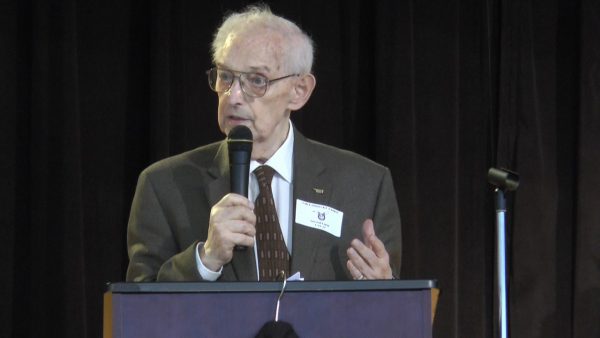 86-year-old Norm Frajman shares his moving story as a Child of the Holocaust survivor with students at Oak Hammock K – 8.