The ESE Department of St. Lucie Public Schools recently hosted a free vision clinic as part of the Florida Low Vision Initiative (FLVI) Clinic. This is an annual opportunity for students who have been evaluated and meet the criteria for initial or continued placement in the Visually Impaired Program under Exceptional Student Education.  "Great value rests in these evaluations which are important in order to update low vision devices and to track visual changes," explained Maria Benham, program specialist for visually impaired.
The FLVI is a portion of the Critical Initiatives in Visual Impairment (CIVI) Project — a grant-funded program through Florida Department of Education located at Florida State University. Students who are selected to participate in the FLVI receive, at no cost to the family or the school district, a low vision evaluation from a FLVI project-approved provider (optometrist or ophthalmologist), as well as any prescribed non-electronic portable low vision device (i.e., glasses, contacts, sunglasses, magnifier, monocular).
Students are also permitted to receive an educational assessment prior to the first low vision evaluation with additional evaluation follow-ups every one to three years thereafter. The educational evaluation assesses reading comprehension and reading speed using the prescribed low vision devices. It also includes device evaluation to determine if the student is using the prescribed device(s) proficiently.
If you are interested in finding out more about this free service, contact Maria Benham at 772-429-7701.
About St. Lucie Public Schools
The mission of St. Lucie Public Schools is to ensure all students graduate from safe and caring schools equipped with the knowledge, skills and desire to succeed. For more information visit, www.stlucieschools.org  or contact Kerry Padrick at kerry.padrick@stlucieschools.org.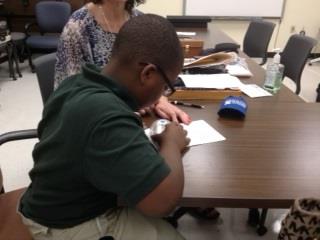 Florida Low Vision Initiative Program supports eligible students.
###