ST. LUCIE COUNTY – Long gone are the lazy days of summer.  Students are finding more valuable ways to spend their summer days through an internship program made available through a partnership with St. Lucie Public Schools (SLPS) and Career Source Research Coast.  St. Lucie County has funded the program and hired over 100 community youth.  From this program, over 40 student interns – more than twice the number from last year – were welcomed into the School District's media services, publications, technology, student assignment, nutritional services, accounting, and maintenance service departments for hands-on experiences during this eight-week opportunity.
Marty Sanders, SLPS executive director of growth management, explained that SLPS Maintenance Department has supported the funding of summer internships through grass roots fundraising for the past nine years.  "We have a vested interest in supporting our students as they pursue their career goals.  The opportunity to partner with Career Source Research Coast was a win-win for sure.  Our joint interests in expanding opportunities for students was enhanced further by the support of our County Commission when funds were allocated for summer employment programs to create opportunities for youth."  Sanders added that this year's summer program built upon a program that was well-rooted.  "As our numbers indicate, we have doubled our reach to provide students with an opportunity to explore jobs they have an interest in as well as provide them opportunities to earn income through this collaborative internship program."
Students who are ages 16 – 18 are eligible for the eight-week internship program.  Shantecia Holloman, an 18-year-old senior at Fort Pierce Central High School (FPCHS), said that the internship
program has offered much more than she expected.  "At first, I did not fully appreciate the two-week training before we were able to get started.  Now, I see why it is important to understand job etiquette and the necessities of being polite and being on time."  The two-week training Holloman refers to is a mandatory Career Source introductory session for all internship candidates prior to beginning their actual on-the-job experiences.  "I have enjoyed my internship here at WLX-TV.  The field work has given me a chance to experience editing and voice over work as well as meet others in the community," said Holloman.  Upon graduating high school, she aspires to attend the University of South Florida where she will obtain her credentials as an OBGYN physician and return to Fort Pierce to practice in her community.
Future Air Force Cadet Destiny Hill is also interning in media services at the School District's WLX-TV station where she feels everyone should have the opportunity to experience such an opportunity.  "This internship teaches you about what you are capable of learning.  It is a great opportunity – just jump in.  That is how I learned to work a camera," she said.  This FPCHS rising senior looks forward to serving her country and her community.  With a solid career in the Air Force, she plans to help support her brother's college fund and give back to the local churches in her community where her grandmother served as a pastor.
Craig Jerome, ITV manager at WLX-TV, said he welcomes interns each summer.  "They are eager to learn the technical aspects that take place behind the camera and are excited to see their work produced and aired on our network," he added.
Students are engaged in internships throughout SLPS, and in each case, they are celebrated for their work ethic and their capacity to learn new skills.  The summer intern program provides a positive platform for students to gain knowledge of the workforce and explore occupational fields that may lead to lifelong careers.
About St. Lucie Public Schools                                                                               
The mission of St. Lucie Public Schools is to ensure all students graduate from safe and caring schools equipped with the knowledge, skills and desire to succeed. For more information visit, www.stlucieschools.org  or contact Kerry Padrick at kerry.padrick@stlucieschools.org.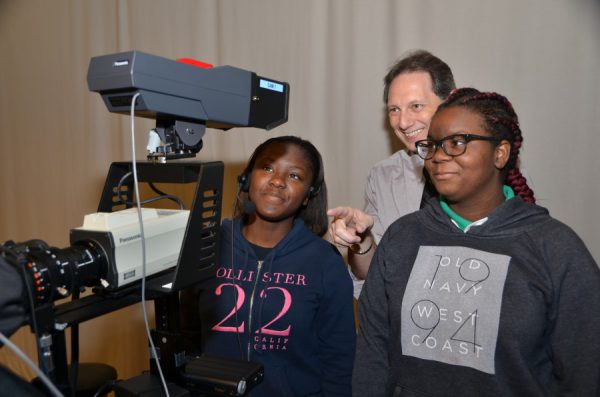 Steve Devlin of WLX-TV studios coaches summer interns Destiny Hill and Shantecia Holloman on how to operate cameras.