An entourage of St. Lucie Public Schools (SLPS) administrators surprised the three finalists for School Related Employee of the Year on Tuesday. Cheers and sounds of glee filled the classrooms, offices, and hallways as Delores "Annie" Jones (Lakewood Park Elementary), Emily Siangco (Student Services Department), and Charles Pilson (Manatee Academy) were made aware of this recognition.
Superintendent E. Wayne Gent stated that he was humbled by the honorees' tremendous contributions to the District's education system. "Our support staff team members are paramount to the success of our schools. These individuals represent the dedication, innovation, and teamwork we are so proud of in our network of SLPS professionals. The service they provide to our students and community is exceptional."
Honoring school related employees is a program that is supported by the Florida Department of Education in which outstanding education support personnel are recognized for the significant impact they make on their schools and district school systems. Locally, one individual will be selected to represent SLPS at the state level during the Night of the Stars gala scheduled for February 20, 2016.
About the Finalists
Delores "Annie" Jones
The nominee from Lakewood Park Elementary is Delores "Annie" Jones — "Ms. Annie" as she is known by staff and students alike. She is the school clerk but her contributions to students, staff, and the community far exceed her job title.
In April of 2015, Jones joined the staff at Lakewood Park as a clerk. According to her principal, she is so much more than the school clerk; students love the attention she gives them. Many stop by to show her their planners and point sheets; she takes delight in rejoicing and reaffirming their success with them. Her days at Lakewood Park are full ones, but her commitment to her family and community are not limited by the hours in a day. Jones volunteers with the 4-H Club, Treasure Coast Food Bank, and Parents Guild Committee among other benevolent organizations.
Delores "Annie" Jones, School Board Chair Kathryn Hensley, and Superintendent E. Wayne Gent
Charles Pilson
Charles Pilson is the School Related Employee of the Year for Manatee Academy. For the past four years, Pilson has served as the school's Behavior Intervention Classroom Monitor. He is very aware of the challenges many students face each day and he supports and encourages their success in the classroom and in the educational environment. He always lends an ear and a supportive word to those students who seek his counsel.
His normal work day ends and his dedication hours begin. He serves as the school's track coach, business partner liaison, and advisor to the Student Council and Honor Society. Pilson works with the Guardian Ad Litem program as well. He is a humanitarian who seeks the good in each and every student every day.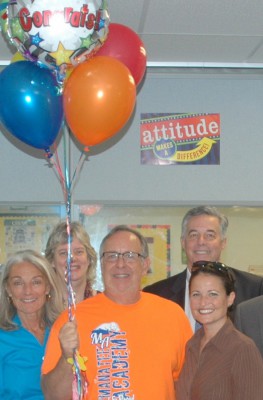 Assistant Principal Peggy Chase, School Board Member Debbie Hawley, Charles Pilson, Superintendent E. Wayne Gent, and Assistant Principal Melissa Hutchings
Emily Siangco
Emily Siangco represents the Student Services Department. She has an extensive background in pediatric physical therapy and has supported students in St. Lucie County since 2002 and continues to enhance her skills through professional seminars and trainings, taking advantage of each opportunity for growth. She has received training in pediatric brain neuroanatomy and the sensory system including the necessary treatment applications. Siangco is also skilled in using visual supports in occupational and physical therapy applications.
Siangco works with students from pre-kindergarten classes to those in high school and spends time with parents helping them navigate the paperwork required to secure equipment in their own homes for their child's needs. This equipment assures that the family can be involved in their child's treatment. Santiago is described as a team player willing to lend a hand at any time. Her very real reward is the progress made by the students she serves.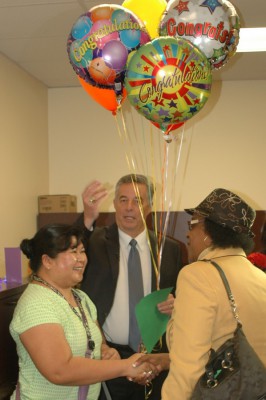 Emily Siangco, Superintendent E. Wayne Gent, and School Board Member Donna Mills
About St. Lucie Public Schools
The mission of St. Lucie Public Schools is to ensure all students graduate from safe and caring schools equipped with the knowledge, skills and desire to succeed. For more information visit, www.stlucieschools.org or contact Kerry Padrick at kerry.padrick@stlucieschools.org.